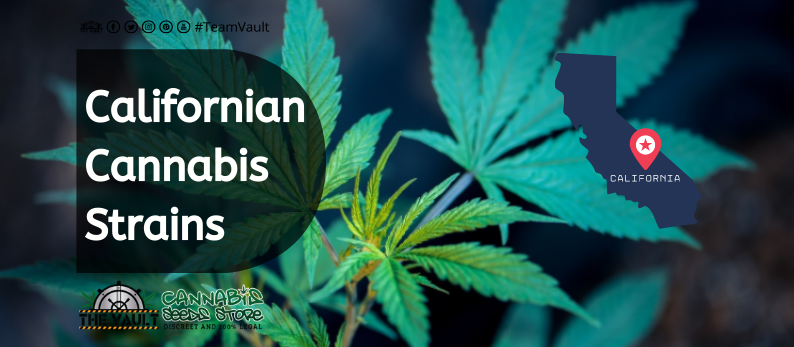 California is one of the worlds biggest hubs for top-quality cannabis. Many of the best breeders and seed companies are based out of California. Many of us have probably heard of Humboldt County, thought to be the home of cannabis. This area of Cali is home to numerous huge cannabis farms, primarily growing medicinal and perfectly crafted crops of cannabis. When medicinal weed became legal in California these areas only improved their cannabis strains and perfected their crops. It is difficult to find higher quality cannabis anywhere else in the world. These are just a few of the best strains to come out of California.
Gelato
This strain is a cross between Thin Mint Girlscout Cookies and Sunset Sherbert. She is often recommended to the high-tolerance smokers who need something with a little bit more power. Gelato is Sativa dominant and so has a euphoric and uplifting effect supported by the power of a 27% THC level. Gelato has taken on the delicious scents and flavours of their parent strains. A mix of flowers and citrus mixed with a sweet undertone of candy. This is an excellent strain for creative pursuits, or for socialising.
Alien OG
Alien has always been an incredibly popular strain, and there has been a number in the Alien Line. This baby is a combination of Alien Kush and Tahoe OG, bringing to Alien a little splash of Tahoe potency. From the Alien side of the family, it has retained its impressive yields and glittering coat of resin. This strain is also probably better for high-tolerance smokers as it can have a pretty intense effect.
Blue Monkey
This strain is known for its rather fancy lineage, a cross between Gorilla Glue#4 and a hybrid of Blueberry and Black Domina. Combining all of these wonderful strains created a sturdy and high yielding strain with all of the delicious scent of the Gorilla Glue parent. This strain is Indica dominant and has a fantastic full-body relaxing effect. This makes it perfect for evening relaxation as well as a great medicinal strain for those suffering from insomnia. Blue Monkey can be grown indoors or outdoors, making it perfect for a variety of growers.
French Macaron
French Macaron is just as indulgent and delicious as it sounds. A cross between Gelato 33 and French Cookies, two marvellous strains full of flavour and delightfully potent. She is Indica dominant and produces a delightful full body stone that is both soothing and relaxing. This makes her perfect for evening use and for those suffering from issues such as stress, pain and insomnia. She gives extremely impressive yields and will develop well in pretty much any grow medium. The buds are tightly packed and a deep purple colour resonates from the centre. The flavour and scent are rich and creamy which perfectly compliments the soothing effect.
Rainbow Jones
This strain is a cross between the famous Grandaddy Purple and Casey Jones. This lovely plant was created to be one of the many beautiful purple strains. Not only was this a success, but Rainbow Jones, as the name suggests, turned out to be a delightfully colourful strain. This strain is also a combination Sativa/Indica which means the effect is delightfully balanced. It is happy and uplifting but soothing and relaxed at the same time. It is also a little bit soporific which makes it an excellent night time strain. Many medicinal users who are suffering from a loss of appetite, fatigue, insomnia, stress or depression have found this strain to be more than helpful. This strain can be grown indoors or outdoors which makes it ideal for all types of growers.
Lemon Sherbert
Another tasty Californian treat in the shape of Lemon Sherbert, a hybrid of Lemon Bubble and Sunset Sherbert. She is often thought to be one of the best tasting strains on the market. This strain also provides impressive yields of resin covered buds, excellent for extraction methods. The effect is nicely balanced between Indica and Sativa, ideal for those who want something relaxing but uplifting. The plants themselves will be medium height but produce impressive yields. This strain tastes and smells very strongly of lemon, as one might expect from the title.
Purple Wreck
This strain is one of the many fantastic medicinal strains to come out of California. It is a powerful hybrid with a THC level of around 23%. This strain works excellently on pain but also can be used by those suffering from joint discomfort, nausea, muscle spasms, cramps, anxiety, depression, migraines, nerve issues and loss of appetite. This strain is definitely a bit of a wunderkind. Visually it has some beautiful purple hues as well as a sweet, fruity aroma. She grows well indoors and outdoors and has a short flowering time.
Stardawg
Ending with another fantastic medicinal strain, Stardawg. This strain is a combination of Chemdawg 4 and Tres Dawg. This makes it a Sativa/Indica hybrid with a delightfully relaxing bodily stone with a cerebral twist. She is often recommended to those suffering from epilepsy, glaucoma, anxeity, arthritis, nausea, pms, stress, sickle cell, multiple sclerosis, backpain, aids, tumours and asthma. It truely is an impressive strain and a shining beacon of what California is capable of when it comes to medicinal strains. The THC content is around 22% so for recreational use it is a bit of a heavyhitter best used in the evening or on a day off. It is also a pretty strain, a lovely light green colour with bright orange pistils.
There are still hundreds of incredible Californian strains available and all can be found through fantastic breeders such as Humboldt Seed Co and Cali Connection. There are, of course, lots of amazing breeders in California so research is always a must. As always it's important to search out the perfect seeds for the grower. If the grower is looking for top quality medical strains then California is an excellent place to get started.
Remember: It is illegal to germinate cannabis seeds in many countries including the UK. It is our duty to inform you of this fact and to urge you to obey all of your local laws to the letter. The Vault only ever sells or sends out seeds for souvenir, collection or novelty purposes.
Make sure you never miss another Vault promo and sign up for our newsletter at http://goo.gl/Bt2Ba2