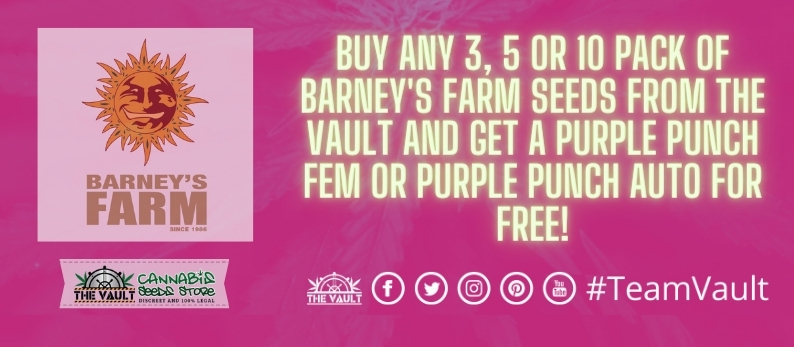 As you know, here at #TeamVault HQ in Edinburgh, Scotland, we make sure that we're delivering the best Cannabis Seed offers across the globe. As part of my role here (Gary Eff speaking by the way), I make sure we keep close ties with all the breeders to ensure you're getting maximum seeds on every order!
Today is no different with this excellent Purple themed promo from the guys and gals at Barney's Farm!
It's very simple!…
If you buy any 3,5 or 10 pack of Barney's Farm Seeds you're going to get the choice of 1 Purple Punch Fem or Purple Punch Auto, for free.
About Barneys Farm:

Possibly one of the worlds most renowned breeders; Barneys Farm began in the late 1980's high atop the Himalayas. After spending 3 years cultivating Sativa and Indica based strains one member of the talented group went on to create one of the most prominent cannabis seed production businesses in the world; that business is Barney's Farm and the man who started it all is Derry.
In 1992 Derry went to Amsterdam and took the helm at the legendary Barney's Coffee Shop. They have created some of the worlds most popular and successfully strains winning countless awards along the way. However, they remain to be one of the most prolific cannabis seeds breeders continuing to create and innovate.
New strains are frequently released, allowing for an ever-increasing audience to continue to enjoy high quality seeds from a company that started, literally, at the top and has remained there ever since.
About The Seeds: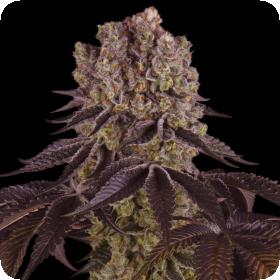 Purple Punch Fems
High-yielding 90% indica hybrid strain with genetics from Granddaddy Purple and San Fernando Valley OG. This strain is very easy to grow and takes between 50 – 60 days to complete flowering.
Yields are very good irrespective of cultivation indoors or outdoors. It is a hardy and resistant plant suitable for a wide range of climates, cool, temperate and hot.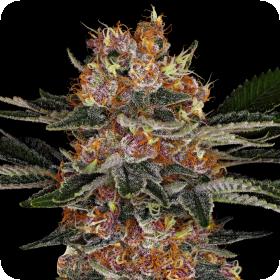 Purple Punch Auto's
Purple Punch Auto … crossing PURPLE PUNCH with our monster BF AUTO CRITICAL has been nothing short of spectacular.
Imagine the taste, incredible relaxing effects and potential yields from this mind-blowing USA X Barneys Farm lineage! Granddaddy Purple x Larry OG x Big Bud x Skunk #1, this Indica dominant, 80 cm, 18% THC, 1% CBD auto-flowering beauty serves up a mouth-watering combination ensuring a happy, euphoric, relaxing sensation ideal for de-stressing after a long day.
Combine that with a distinctive taste of baked sweet Apple Pie with cloves along with the ensuing mind provoking aromas reminiscent of your favourite bakery.
Expect up to a whopping 350-400 grams yield per plant from our Purple Punch Auto flowering from seed in only 50-60 days!
So don't dither folks, head over to The Barney's Farm Seed Range on The Vault Website to shop. Remember, this is on top of ALL other free seeds over so you're going to walk away with an overflowing bag of seeds, just don't drop any!
Remember: It is illegal to germinate cannabis seeds in many countries including the UK. It is our duty to inform you of this fact and to urge you to obey all of your local laws to the letter. The Vault only ever sells or sends out seeds for souvenir, collection or novelty purposes.
Make sure you never miss another Vault promo and sign up for our newsletter at http://goo.gl/Bt2Ba2