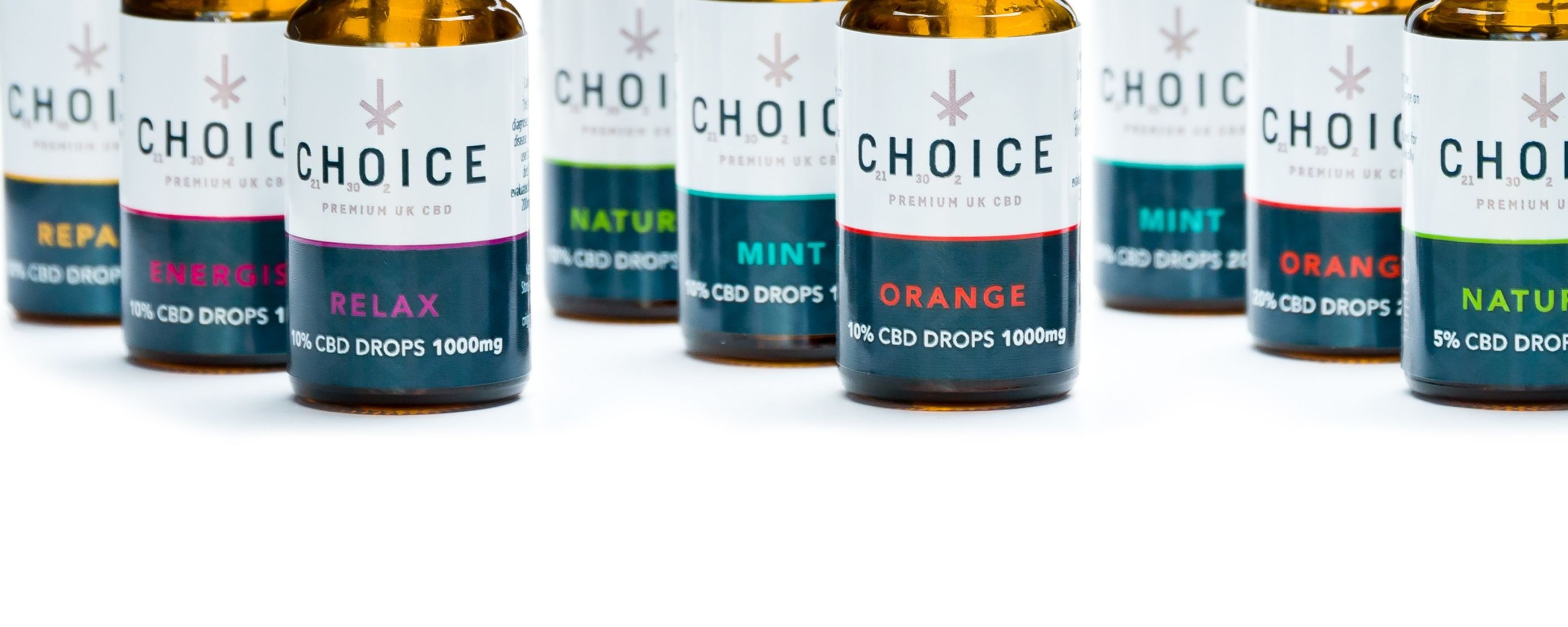 We spoke to CHOICE CBD all about their dedication to quality and their rigorous testing processes which ensure premium products that customers can trust.
Q. What makes CHOICE CBD stand out from the crowd?
A. We launched CHOICE CBD in 2019 with the ambition to create a premium brand that consumers can trust. Unlike many other CBD brands, all of CHOICE's products use only 100% natural flavours whilst also being additive, palm oil and cruelty-free, as well as vegan.
Our dedication to quality assurance sets us apart from other competitors on the market; we have sourced ingredients of the highest quality to make all of our products. Plus, our market-leading extraction technologies mean that all CHOICE products have an undetectable low level of THC and are therefore considered to be non-psychoactive substances.
This is really crucial in a market that many are still trying to decipher and understand; we're putting the health benefits at the forefront and creating premium products that customers can trust.
Q. Can you tell us a bit about the ingredients you use for your CBD products and how they are sourced?
A. CHOICE's CBD isolate is extracted from hemp, organically grown and processed under highly-controlled conditions in the USA, which is one of the most regulated markets in the world. Every finished CHOICE product is third-party lab-tested to retain certified quality and safety for consumers.
Also, unlike many other CBD products currently sold in the UK, our MCT-carrying oil is derived from coconuts, meaning it is palm-oil free as well as being free of additives and artificial ingredients. Our products are also vegan and gluten-free.
Furthermore, CHOICE terpenes – Energise, Repair and Relax – are naturally occurring aromatic chemical compounds produced by plants. Terpenes give oranges their citrus smell and lavender its relaxing properties. We use terpenes associated with boosting energy in CHOICE Energise Oil (e.g. citral); relaxation in CHOICE Relax Oil (e.g. myrcene) and with anti-inflammatory properties in CHOICE Repair Oil (e.g. limonene).
Q. Why do you believe testing and lab reports are so important in the CBD industry?
A. CHOICE goes above and beyond when it comes to testing because we believe that all customers have a right to know exactly what is in the product they are purchasing.
So that we can ensure transparency, and to help consumers make the right 'choice' for their individual needs, our Certificates of Analysis tell you what is behind the magic in each bottle (you can find your product batch number located on the label of every CHOICE product). Our rigorous procedures include testing for: heavy metals, pesticides, residual solvents, micro-toxins and terpene analysis.
From the harvest of our US organically-grown hemp to the point of sale, CHOICE products are subjected to an extensive series of quality control tests. As a result, we only work with supply chain partners that have invested in market-leading extraction technologies and use validated methodologies to ensure the efficacy and accuracy of what they are measuring, whilst also adhering to all HACCP (Hazard Analysis and Critical Control Points) principles.
Whilst every CHOICE product is third-party lab tested (twice) to ensure product integrity and safety, it is important to note that CBD is not a licensed pharmaceutical medication. As a result, we highly recommend checking our Certificates of Analysis for clarity on what is in each CHOICE product and discussing any medical-based questions with your GP or a health professional before trying any CBD products.
Q. How do you see the CHOICE CBD brand evolving over time?
A. Alongside our existing range of six CBD oils, CHOICE is also looking to launch several more exciting products this year and next year, including vitamins, edibles, drinks and creams. Looking ahead to 2021, CHOICE would also like to establish a physical retail presence across the country to expand its accessibility to customers.
Q. What advice would you give to someone who is looking to buy their first CBD products?
A. Whilst there's no "one size fits all" approach to trying CBD products, especially for beginners, we do think it's worth being mindful of a few key factors to figure out the best strength and dosage suited for you. Your weight, unique body chemistry, the concentration of CHOICE CBD products, and the condition you are trying to alleviate will all affect the dose that works for you.
With CHOICE products, we advise starting with a small dose to begin with and gradually increasing this until you are aware of the effects. However, these dosage suggestions can be exceeded if you find that you need more to feel the full effect of the product.
In general, we would recommend beginners take CHOICE CBD via sublingual consumption. This involves positioning CBD drops under the tongue for quick absorption through the mucus membranes and into the bloodstream. Absorption usually occurs within 60 seconds and the effect of the CBD is quicker than through the digestive system; we suggest using our CBD oil three times a day after meals for optimal results.
We'd like to say a big thank you to CHOICE CBD for taking the time to answer our questions. Their premium CBD oils are available in a range of strengths and flavours and are well worth checking out – you can view the selection here.